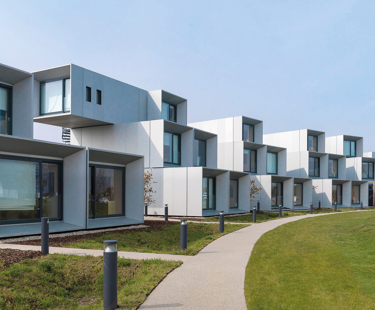 As a first year Undergraduate Engineer, you'll live on-campus in a modular pod in Dyson Village. Each pod contains a sleeping and study area, a bathroom and ample storage. Large windows make the most of the stunning views, while the desks are designed by Sir James Dyson himself. There are also communal kitchen pods, laundry pods and social pods for relaxing.    
To add to the campus feel, the Roundhouse contains a café, events bar and screening room, offering plenty of communal space for working and socialising.    
The on-site accommodation fee for first year Undergraduate Engineers is £550 per month, which includes bills (you'll need to take out your own contents insurance). This is taken directly out of your net salary (after tax) each month.    
At the end of your first year, you'll move out of the pods and find your own accommodation. The Student Support team hold an annual event to equip you with information on how to find somewhere to live and the process of renting, as well as an opportunity to work out who you might want to live with.