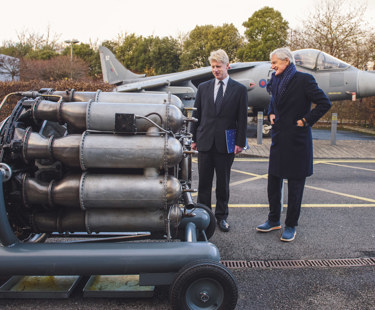 What's happening
Higher education
A new engineering education
Out of frustration at my continued pleas to ministers to take the skills shortage seriously, Jo Johnson, then Secretary of State for Universities Science, Research and Innovation, challenged me in 2016 to be the first to open a new kind of University on Dyson's Malmesbury Campus. Less than a year later we welcomed our first cohort of undergraduates, using powers granted by new legislation.
Today we have 150 Dyson undergraduates studying and working alongside more than 4,000 of Dyson's UK employees. We have built an Undergraduate Village and recreation spaces, as well as dedicated lecture rooms and created hundreds of specialist laboratories. The Dyson Institute's Undergraduate Engineers pay zero tuition fees and earn a full salary – quite different to the crippling debt of the traditional university experience.
I believe we are creating some of the best engineers in the world! As well as their degree studies, they work on real-life projects alongside practicing engineers in Dyson's global engineering, research and technology teams – applying their knowledge. From day one they contribute to new technologies, to improve lives around the world. I'm also delighted that, though we have a way to go, 33% of our undergraduates are female, compared to 18% studying engineering overall.
The first undergraduate pioneers – not to mention their parents – were brave to trust us, and together we have been forging a new model in education. The model seems to be working; we have exceptional young people joining us and driving Dyson forward, and we have just been informed by the Office for Students that we will be able to award our own degrees from September 2021.
I believe a new education model is important if we are to create the generation of problem solvers that we so badly need. Korea, Singapore and other ambitious countries around the globe understand and celebrate the immense wealth-creating ability of engineers. Conversely, Britain's economy has long suffered from an acute skills shortage. We can't stand on the side lines watching while the world engages in a knowledge and technology race.
Britain is falling short by 60,000 engineers a year according to current estimates and is failing to encourage more female engineers, meaning that they represent just 18% of those studying engineering. At the same time, students are burdened with appalling debts while at university; the average undergraduate today leaves with over £50,000 worth of loans, which takes years to pay off – if ever paid off at all.
My grandfather was an open scholar in maths, my parents were teachers having studied at Cambridge, and my brother was an open classics scholar. Academia and classics ran through my veins, so it was assumed that I would follow suit. On top of that I was told at school that if I didn't work hard I would end up working in a factory. Indeed, eyebrows were raised high when I opted for 'Art School' and I now spend a lot of my time in factories!
There is no doubt that the academic classes in Britain still look down their noses at those with a practical bent, but there is also a wider image problem: engineering is seen as boring and difficult. This stigma, and the assumption you need to spend your days deep in complex physics, maths and chemistry, is part of the reason that the shortage of engineers in the UK is so acute. Engineers are complex problem solvers, bringing together science, design and abstract theories while also understanding and empathising deeply with the those who will use their products.
It has not been easy. Yes, there are hoops to jump through and this is quite right given that we are being trusted with a most vital ingredient of a young person's future. I believe that the Dyson Institute represents a modern, forward thinking, 21st century education relevant to the world of work. I hope other similar institutions will also take this approach.
The Dyson degree is more than a job, and more than a degree – academic learning is immediately applied and made real, demonstrating the thrill and excitement that comes from inventing.  We are putting our faith in these young engineers and in the revolutionary technologies that they will develop. It is not for the fainthearted, theirs is a 47 week year and they work very hard, but we are investing in them, employing them and backing them with a supportive academic and work environment which encourages risk taking. They are not tied to Dyson, though I hope they chose to remain at the core of our engineering team long after graduation and that they become our future leaders. I only wish more people understood how fulfilling a career in engineering is, and the immense value engineers bring. Rise up engineers!