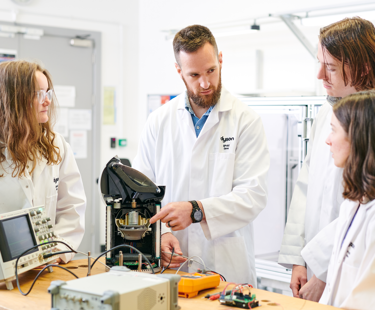 Start your accelerated Dyson career.
At the Dyson Institute, you're a Dyson engineer from day one.  
Dyson solves the problems that others have ignored; disrupting each technology category it enters with radical new technologies and designs. As an Undergraduate Engineer, you'll be developing new products with an international impact.  
Working alongside experienced engineers on live Dyson projects, across a range of business functions, you will quickly grow your responsibilities and broaden your experience. With Dyson's expertise across motors, fluid dynamics, separation systems, energy storage, robotics, hair science and software, you'll have the chance to work within a number of technical disciplines. During the programme you may also be able to work in our Bristol software hub, and our technology and design centres in Singapore and Malaysia. 
Your learning won't end at graduation. The seamless transition to the next step in your Dyson career will build on your four-year head start, with individual progression pathways designed to develop future leaders to drive innovation and engineering globally. You'll be supported in your career journey by a senior Dyson mentor, to help you get the most from Dyson's start-up, entrepreneurial culture. 
From day one, you'll be immersed in Dyson's culture to be number one in everything we do, characterised by our values.