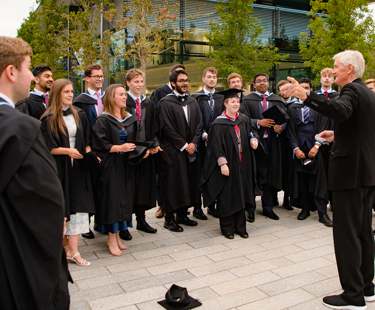 An accelerated Dyson career.
After graduation (and assuming you meet the other conditions for continued employment) there's a seamless transition to the next step in your Dyson career, with individual, accelerated progression opportunities designed to develop future project and people leaders who will take a leading role in progressing Dyson's next generation of innovative technology and products globally.
Missions year
The Dyson Institute's integrated MEng (Hons) engineering programme is unique in offering a combination of an academically rigorous degree alongside immersion with Dyson teams, developing the next generation technology and products. In recognition of this, you'll emerge post-graduation at the level of an experienced engineer and continue on an accelerated career journey.
When you transition into your onward Dyson career, your first year after graduation is dedicated to helping you explore your passions and develop professionally on a full-time basis within one of Dyson's global Research, Design and Development teams.
Currently, this takes the format of 'Missions' – either one 12-month or two 6-month placements, built around defined Dyson projects.
You can choose to either apply the skills and knowledge developed at the Dyson Institute whilst embedded with a project-development team on a "full-time" basis, or you could choose to broaden your skills and explore different areas with a new team or area of the business. These missions may be UK-based or international, depending on your individual preference and business need.  
The opportunity to undertake international experiences can enrich your understanding and knowledge of Dyson, as they can enable you to experience every stage of product development; from conception to manufacture.
Throughout your Missions year, you'll have dedicated career development guidance in monthly 1:1s with the Dyson Institute Early Careers Programme Manager and a programme of development for your ongoing professional development.
As you approach the end of your Missions year, the Dyson Early Careers team – alongside Dyson engineering leaders – will work with you to identify your next career steps based on your interests, development needs and business priorities.
Post-missions year
After your experience of the Missions year, you'll have a range of experience to reflect on and choose where you would like to continue your Dyson career.
You'll have the opportunity for ongoing career development sponsorship from a senior leader within Engineering, offering you accelerated career development and learning opportunities as a future technical, project, people or functional leader at Dyson.
You'll also have increased visibility with senior leaders and opportunities to work within Dyson's most high-profile and technically innovative product development teams, to elevate your onward Dyson career.
Executive sponsor
Towards the end of your studies with the Dyson Institute, you'll be aligned with a senior leader within Engineering to act as your "Executive Sponsor"; connecting your development needs and ambitions, with opportunities for career progression within their teams or with their cross-functional network.
Your Executive Sponsor will meet with you regularly for development and career conversations and help you shape and monitor progress against your long-term career aspirations.
Your Executive Sponsor will stay with you until your post-Missions year and beyond.