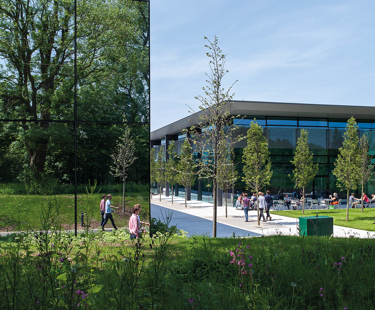 Malmesbury, UK
The Dyson Institute is based at Dyson's core creative and engineering campus in rural Malmesbury, Wiltshire. This is where you will learn and work, making the most of our state-of-the-art facilities and in-person support from Dyson Institute academics and Dyson engineers. Working and collaborating with others, you'll help to solve problems that others ignore.
The Malmesbury campus is home to Dyson's global Research, Design and Development (RDD) centre and a base for many of our advanced engineering teams. It's also a global hub for Dyson's creative and support teams. Dyson also has key strategic hubs in Hullavington and Bristol – where our artificial intelligence (AI), Robotics and IT teams are developing next-generation technology. Subject to which teams you are working in throughout the programme, you may work at any of these three sites. 
Dyson Malmesbury is a unique place to work and study. There are 129 state-of-the-art laboratories, a Harrier Jump Jet in the car park, a Lightning Jet hanging from the ceiling in one of our cafés and other inspirational engineering icons around the campus. There are landscaped nature walks, intriguing artwork, a free gym, on-site hair salon, coffee bars and cafés serving free hot drinks and lunches, and a variety of spaces for Dyson people to work, socialise and relax. As a first-year undergraduate, you will also benefit from our on-campus accommodation in Dyson Village.
Visiting campus
Unfortunately, due to the strict security restrictions on our site, we currently don't offer open days or site visits.