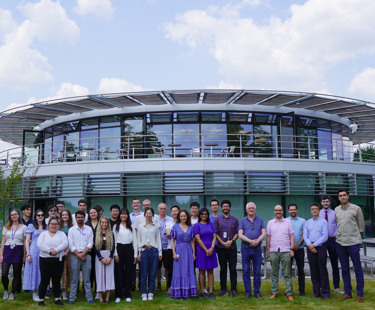 What's happening
Engineering
UK Acoustofluidics Special Interest Group
On Friday 16th June, The Dyson Institute of Engineering and Technology welcomed more than 30 researchers from the acoustofluidics community in the UK for the 10th Acoustofluidics SIG (Special Interest Group) meeting. This event was a significant milestone for both the acoustofluidics field and the Dyson Institute, as it marked the first research event held on our campus and the first face-to-face gathering of the acoustofluidics community after a long period of pandemic restrictions.

Acoustofluidics is an interdisciplinary field that studies the interaction between sound waves and fluids, and its applications in various domains such as biomedicine, microfluidics, and materials engineering. The Acoustofluidics SIG in the UK was established in 2016 by Prof Richard Yongqing Fu of Northumbria University, who is also the leader of the group. The SIG aims to promote collaboration, networking, and knowledge exchange among researchers working on acoustofluidics in the UK and beyond.

The meeting at the Dyson Institute was organised by Dr Mehdi Biroun, a lecturer in engineering at the Dyson Institute, in collaboration with Prof Fu. The event featured two keynote speakers: Prof Fu, who gave a talk on "Olympics in Acoustofluidics: Higher, Faster, Stronger, and Better!", and Prof Bruce Drinkwater of University of Bristol, who presented his work on "Twisted Sound – Trapping, Moving, and Rotating Objects with Acoustic Vortices". In addition, the meeting included oral and poster presentations by other participants, covering topics such as acoustic levitation, acoustic streaming, acoustic tweezers, acoustic metamaterials, and acoustic sensors.

One of the highlights of the event was a live demonstration by Dr Jeremy Hawkes and Dr Chris Yand of Cardiff University, who brought their experimental setup to show how they use acoustic waves to manipulate microscale objects. The demonstration attracted a lot of interest and curiosity from the attendees, who had the opportunity to ask questions and learn more about the techniques and challenges involved in acoustofluidics research.

The meeting was also a great opportunity for the Dyson Institute students to get involved in organising a research event and to learn from leading experts in the field. The students helped with the logistics, registration, catering, and social media promotion of the event. They also had the chance to interact with the speakers and attendees, and to gain insights into the latest developments and applications of acoustofluidics.

The event was a success in terms of fostering collaboration, communication, and innovation among the acoustofluidics community in the UK. It also showcased the research capabilities and facilities of the Dyson Institute, and its commitment to engaging with academic colleagues globally. We would like to thank all the participants for their valuable contributions and feedback, and we look forward to hosting more research events in the future.