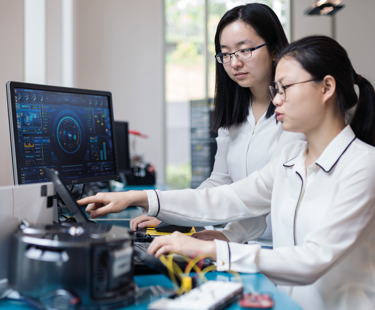 As a Dyson Postgraduate Engineer, you'll be supported to develop skills and behaviours that you'll need as your career develops.
In addition to the invaluable professional development you'll gain through your work at Dyson, the Dyson Institute ensures that you'll have opportunities to develop professional competencies including teamwork, personal effectiveness, ethics and sustainability.
Career support
Throughout your time at the Dyson Institute, you'll be supported to proactively manage your future Dyson career and to meet your personal and professional objectives.
Support includes one-to-one mentorship, opportunities to discuss different career pathways with senior Dyson people, networking events and career insight sessions from leaders across the Dyson business.
After graduation, there's a seamless transition to the next step in your Dyson career, as a qualified software engineer. You'll be supported in deciding where you would like to specialise within software engineering, based on your skills and motivation, alongside business need.
You may be interested in professional registration and getting chartered. More information on this can be found below.
Professional registration and chartership
Professional registration, also known as chartership, is recognition of your engineering and technical competence, which has been independently assessed and is internationally recognised.
An accredited degree programme can help when you apply for chartered status, as the content you learn has already been verified as relevant for the sector by the relevant Institute or awarding body.
We are working closely with the British Computing Society (BCS) to accredit the Institute's MSc Software Engineering programme – there is an accreditation process to go through and it typically isn't applied until a degree course has graduates. Once a course has accreditation, it will apply to everyone who has completed the course.  
Anyone that would like to gain professional registration needs to generate evidence of their professional software engineering experience, commitment and competence through submission of relevant documentation. They also need to take part in a professional review (similar to an interview).   
Your time at the Dyson Institute will give you two years of work experience – a useful head start in developing evidence of your professional competence and commitment.
Once you're able to demonstrate that you meet the registration requirements of your chosen professional body, Dyson will support you in pursuing this.   
You can find out more about becoming chartered and the process involved on the BCS website.