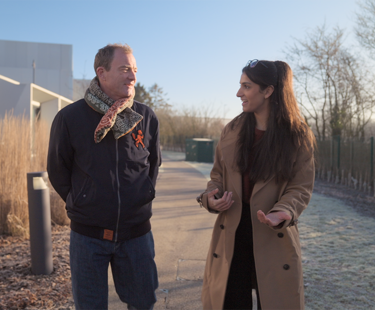 What's happening
Higher education
James Dyson announces next step in plan for the Dyson Institute
Six years after James Dyson founded the Dyson Institute, it announces it will offer a Master of Engineering to all future Undergraduate Engineers, moving on from its degree apprenticeship
Dyson's undergraduates will continue to study in the classroom for two days a week, working alongside Dyson's 6,000 engineers on live projects three days a week
They pay no tuition fees and undergraduates start on £22,000, a salary that almost doubles by the time they have graduated as fully fledged engineers
Dyson has so far invested £60m in the Dyson Institute – and will invest at least £250k in each MEng student over the four-year course
From September 2024, the Dyson Institute will offer an MEng degree course to all of its incoming students, to reflect the academic rigour and unrivalled hands-on engineering experience its undergraduates experience over the four-year programme.
The Dyson Institute in Malmesbury, first of the new higher education bodies created by the 2017 Higher Education and Research Act to be awarded degree-awarding powers, is to move on from its degree apprenticeship and its onerous administrative burden.
The Dyson Institute today also announces:
A new conversion course MSc in Software Engineering, open to any graduate of any other discipline (i.e. without significant prior learning, professional qualification or a degree-level qualification in Computer Science or closely related subjects), with a 2:1 and an interest in the subject and an aptitude for coding – this will also take students from Sept 2024.
Short courses for some of Dyson's 14,000 people globally, as the company takes its on-the-job training "in house". An early course offering will be "Software development for engineers" with an initial focus on the UK.
Plans to introduce further Masters courses and PhDs.
All these developments are dependent on regulatory approval, but Dyson is accepting registrations of interest from Monday 6th November.
In moving away from the Degree Apprenticeship model to an employer-sponsored degree, Dyson will have to forgo all funding within its Apprenticeship Levy. It plans to invest £250,000 in each student over the course. Students will continue to live on the company's R&D campus during their first year in individual pods in the Dyson Institute Village.
Currently, there is no way of offering an integrated Masters level degree through a degree apprenticeship, which has influenced the decision.
Dyson has also found the regulation of the degree apprenticeship to be onerous – with a heavy (and costly) administrative burden falling on academic staff, administrators and the students themselves.
All undergraduates will continue to study for two days in the classroom with the Institute's directly employed academic staff – and then spend three days working alongside Dyson's 6,000 world-class engineers on real-world projects, creating the technology of the future.
All graduates of the Dyson Institute will continue to be offered jobs at Dyson, with some taking on roles outside the UK in some of Dyson's 85 markets, including the United States, South Korea and Singapore, where the company established its first global headquarters in 2019.